Medical School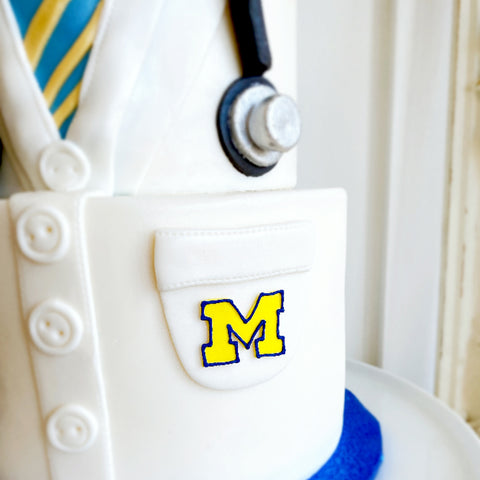 NOTE:
Looking for another medical school? Or a more feminine version? We can make changes like a blouse and pearls instead of a shirt and tie, school colors, and school insignia and/or logo. You can leave a note on your online order or telephone the bakery for further customization.
This tall stacked cake dons a lab coat and stethoscope. Home Bakery 6" triple-round cake on an 8" triple-round cake covered in marshmallow coating over Home Bakery buttercream. Choose either chocolate, white, or yellow cake.
 6" Triple Layer Cake on an 8" Triple Layer Cake (Serves: 36).
Add a cake topper to your order HERE.
Do you need Birthday Candles? Grab some HERE.
View our color disclaimer HERE.
6" Triple Layer Cake
8" Triple Layer Cake
Serves: 36
All orders require 24 hours to complete.
Choose a pickup date and time at checkout.
---